On the mind of Ali M. Halawi:
Part 1- BEIRUT – With a 225km coast line on the Mediterranean, the beach is where the people in Lebanon often head when the summer heat intensifies. However, rampant pollution from illegal dumpsites near the coast and sewage pipelines flowing into the sea have deprived many of the relief of dipping into the water.
Pollution spills into the sea along stretches of Lebanon's often dramatic, hilly coastline. In places, raw sewage sometimes washes into the water, according to a recent report on public beaches by the state-run National Centre for Marine Sciences.  Lebanon also has a rubbish disposal problem. Landfill sites, some by the seashore, are overflowing and in recent years, winter storms have covered nearby beaches with plastic. Even some private beaches are affected. A dirty coast may make it harder for badly indebted Lebanon to draw back tourists and revive its one-time image as an elite Mediterranean playground offering skiing, Roman ruins, beaches, wine and fresh seafood within its tiny borders.  Fishermen dangle their lines each day off Beirut's seaside Corniche, either selling their catch or taking it home to eat. But the water there is washed with trash and little slicks of oil give a rainbow sheen to the waves. In its report on public beaches, the marine sciences center rated four near Beirut and another near Tripoli on a spectrum between dangerous and highly polluted because of the amount of fecal streptococci in water samples.  At another beach near the pretty ancient fishing town of Batroun, there was highly dangerous chemical pollution, the center said.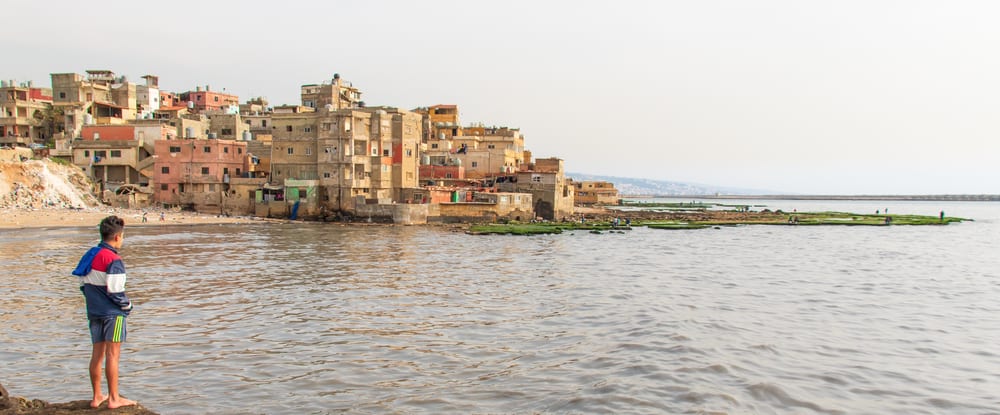 Numerous other public beaches, while not as bad, were not in the safe range defined by the World Health Organization. However, some in southern and central Lebanon were ranked as good. Public statistics on ownership are hard to come by in Lebanon, but one 1997 report showed that four fifths of the shore along the central coastline was privately owned. The marine sciences center rates the long sandy public beaches between Naqoura and Tyre in the far south of Lebanon as the best in the country. They are a popular destination for day-trippers from Beirut and a nesting site for sea turtles. But many people from Beirut or areas further north are loathe to spend the extra money on petrol or risk getting stuck in the long traffic jams each weekend.
Lebanese TV network LBCI published a picture June 19 showing a large polluted area along the coastline of Beirut, which then quickly appeared on Lebanese social media networks. A video shared June 1 by the Lebanese Transparency Association, a nongovernmental organization fighting corruption, also showed how badly polluted the water is a few meters below the surface.
Although this problem is not new, it seems to reach a new level every year, polluting even underground currents.
"The world's most beautiful pollution" — that's how blogger Claude El Khal referred to the coastal waters of Lebanon on his blog after LBCI shared the picture of a brown-colored area in the sea, close to the shore where people usually enjoy a swim in summer. Already in 2002, university student Lena Kakati warned on the Planetary Notions website, a global student platform that addresses topics of environmental importance, "Our natural waste greatly harms our health."